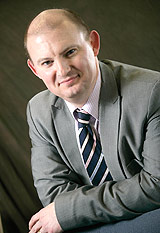 Professor Marc Desmulliez (Director James-Watt Institute)
Microsystems for Manufacture Theme
M.Desmulliez@hw.ac.uk
Area of Research - Micro-assembly and packaging - MEMS manufacturing.
Professor Desmulliez received his French Diploma in Electrical Engineering from the Grande Ecole SUPELEC (1987, Paris, France), top French School in Electrical Engineering, MSc. in Microwave and Modern Optics (University College London, 1987), Tripo III the Diploma in Theoretical Physics (University of Cambridge, 1990) and Ph.D. in Optoelectronics (Heriot-Watt University, 1995).
He worked as an Electrical Power Engineer at SOLLAC in 1989 managing a group of 70 people, in charge of the electrical maintenance of a 4000 strong steel factory in Dunkirk. As a Research Associate in 1995, he conducted research into various optoelectronic devices, including spatial modulators based on MQW Fabry Perot effects and nonlinear interference filters.
Since 1995, he has been Lecturer (1995-1999), Senior Lecturer (1999-2001), Reader (2001-2006) and Professor (2006-present) in the Department of Electrical, Electronic and Computer Engineering. He led this Department from August 2006 until December 2009. In 1999, he created the Microsystems Engineering Centre (MISEC), currently the 4th largest UK research group in MEMS with over 30 Ph.D.'s and RA's. MISEC specialisation lies in the design, fabrication, packaging and test of non-silicon based MEMS as well as the study in advanced low-cost micro-manufacturing technologies. He successfully spun out the Company MicroStencil Ltd in January 2003 which is now trading in Singapore as a joint venture with DEK, the work leading equipment manufacturer of stencil printer. Prof. Desmulliez has published over 250 articles in his fields of research.
---